Jan 30 2006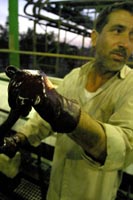 GUESTS: David Bacon, labor journalist and photographer, Dave Campbell, Secretary Treasurer of United Steel Workers Local 675
Iraq is a nation with a strong history of unions and labor movements. Following the U.S. invasion Iraqis continued to be subjected to a 1987 law enacted by Saddam Hussein that banned public workers from unionizing. In spite of the ban, oil workers in Basra have organized and forced multinational corporations to relinquish their concessions to privatization. A new photo-documentary project called "Iraqi Workers Organize," seeks to tell their story. The exhibit features photographs by labor journalist and photographer David Bacon and hopes to help build solidarity between U.S. and Iraqi unions and workers. This year, LA harbor longshoremen and oil worker's unions will host the traveling exhibit in an effort to end the war and occupation.
View David Bacon's photos at: dbacon.igc.org
The exhibit will be held at:
January 31 – February 28
Opening Reception: January 31, 2006, 7:30 PM
United Steel Workers Local 675
1200 E. 220th St. (Wilmington Ave. exit off 405 toward the BP refinery, right on 223rd, right on Lucerne to 220th)
March 1 – March 31
International Longshore and Warehouse Union Local 63
350 W. 5th Street
San Pedro, CA 90731
The show will travel to other unions, labor studies centers, schools, and even plant gates, and will provide space for class visits and community discussions.
One Response to "Iraqi Oil and Port Workers Photo Exhibit"
Thanks for your post and that wonderful blog you are running!