Mar 06 2007
the entire program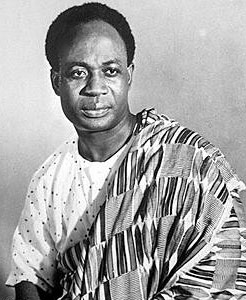 Speech by Ghanian President Kwame Nkrumah to the United Nations in 1960. Courtesy of the Pacifica Radio Archives.
Today is the 50th anniversary of the independence of the West African state of Ghana. Ghana was the first black African country to obtain independence from colonial rule on March 6th, 1957. It's first Prime Minister and later President, was a man by the name of Kwame Nkrumah, who was one of the main motivating forces behind independence from Britain. Nkrumah's vision extended beyond Ghana to all colonized African states and he became legendary for speaking out against the colonization of Africa and was the first to publicly call for Pan-African unity. In 1963 Nkrumah organized a conference of the 32 independent African States in Addis Ababa. The Organization of African Unity (OAU) was formed at this conference with the purpose of working for the Unity, Freedom and Prosperity of the people of Africa. In 1965 Nkrumah published his book "Neocolonialism" in which he exposed how foreign companies and governments were enriching themselves at the expense of the African people. This book drew harsh protest from the US government and resulted in the cutting of economic aid. On February 24th, 1966 Nkrumah was overthrown in a US-supported military coup while on trip to Hanoi, North Vietnam and died 6 years later.
We'll hear excerpts of a speech given by Kwame Nkrumah in 1960 at the United Nations. Special thanks to the Pacifica Radio Archives for preserving this sound, and making it available to us today.
To order the entire speech on CD (67 mins), call the Pacifica Radio Archives at 1800-735-0230 and request "Kwame Nkrumah at the UN in 1960", Archive Number BB0139.
52 Responses to "Kwame Nkrumah Speech to the UN"
#

Marina

on 06 Mar 2007 at 9:04 pm

This was interesting. We are just covering neo-colonialism in my sociology class so this was great information to relate. Thank you for expanding my knowledge and awareness.

It is interesting so i need a copy of Nkrumah'speech at UN in 1960/1961

Send me a copy of the seeches especially the one where he said Africa will not be free untill all are liberated. And any speech where he may have talked about conflicts as an obstacle to development and poverty reduction.

I have not seen the show but would like copies of the speeches.

#

Bismark Darkwa

on 17 Dec 2007 at 7:02 am

the man deserved to be called a hero a powerful speech which contains all the problems on earth even untill today

#

Joshua Nyamasheki

on 17 Dec 2007 at 7:21 am

Send me various copies because to me Kwame Nkrumah is the African rero of the century.Nkrumah was a political prophet.

#

Akwesi

on 27 Dec 2007 at 7:34 pm

To me Nkrumah personify the solution for Africans problems more indept more than any other leader to date.

#

Michael Koka

on 29 Jan 2008 at 4:05 am

please I will like to have a copy of Kwame Nkruma'speach mostly those concerning African liberty and peace
Thanks

#

Michael Koka

on 29 Jan 2008 at 4:08 am

Please send me a copy of Kwame Nkruma's speach on the freedom of Africa and Peace
Thanks

#

Koka Michael

on 01 Feb 2008 at 11:44 am

the spirit of nkruma lives and never dies till total African freedom is achieved.

#

Opamago Agyemang-Barimah

on 02 Mar 2008 at 2:55 pm

I am a Ghannian and I have just started learning about my history i will not let this mans vision die i will be president of my country.

I salute the boldness in the man, Kwame Nkruma and that of other African leaders who stood firm for Africa to be free. I need a copy of the speech, please.

#

Mawutor Pikin

on 31 Mar 2008 at 3:40 am

This is a man who was 50yrs ahead of most African leader. Thank JAH for giving us such a prophet to pave the way for us.
I will never let his dream die.
AFRIKA MUST BE ABLE TO MANAGE ITS OWN AFAIRS.

#

Simon Petreus lenin

on 01 Apr 2008 at 6:07 am

Hi Kwame Nkrumah is powerful moving and inspirational together with Mwalimu Nyerere, Senghor and Lumumba they make me proud of Africa. Listening to Kwame Nkrumah rekindels the great flame of panafricanism. i would be greatly hounoured to receive copies of this prodigy whom i adore. Long Live Africa Long Live Nkeumah (Kampala, Uganda)

#

Joshua Nyamasheki

on 22 May 2008 at 12:34 am

I am a Tanzanian,to me Kwame Nkruma is still alive .Leaders of Africa are the sources of all the problems which are now facing our beloved continent.

#

akwasi afrane

on 15 Jun 2008 at 2:52 pm

I think Nkrumah lived aheard of his generation hence current World leaders have to tap knowlegde from his works (speechs and writings)to help fight against poverty and war.

#

Ackwerh Tsiatey Jefferson

on 01 Jul 2008 at 9:53 am

Nkrumah was Gods political prophet for AFRICA. current AFRICAN leaders should take a clue from him.I need a copy of his speeches.

To every nation or people, there has been a prophet who answers the needs of the people. In other words, prophets are not sent to a people: They are raised from the people. Nkrumah is the equivalent of Jesus or Mohammed or Buddha. He was sent to redeem the Black Afrikan.

#

Seeiso

on 30 Jul 2008 at 4:48 am

I am a student here at Central university of Technology in South Africa and i would like to read more about the great leader

#

Abu Mahamadu

on 23 Sep 2008 at 10:09 am

I think Africans in general has a lot to learn from this great leader.i was amazed at the power of his brains and his eloquence even at that time when Africa was still being view as the dark world. I cannot but agree with those who said Nkrumah lived 50 years ahead of his time.
Please send me copies of his speeches to UN/1960/61

i am of no doubt that nkrumah indeed is on the same pedestal as marx,lenin and adams smith.

God bless Nkrumah,God bless Afrikan, Give us reason for living,unity for one course and the courage to press on.even from the least to the great give us our day to day purpose by which we came to being so that even if there's yet another history book or sites to be published our name will be remembered. may his soul rest in Peace..from Ghana

#

Mubs

on 21 Feb 2009 at 10:33 am

I argue that kwame nkrumah was sent to redeem the black man from the greedness n injusticeness of the whiteman.he is a saviour

#

hamisu

on 28 Apr 2009 at 1:21 pm

This was a true afrkan leader.Not the ones we see oflate, who are nothing but the puppet of the west. He was a true freedom fighter. God punish all those egoistic politicians who overthrew this greatman.

Africa's forward march was indeed derailed. Never again shall we coup such leaders on the expence of selfish needs.

He who assisted in the coup of Nkruma must be evil indeed.

Whenever I listen to Nkrumah's speeches, one thing echoes in my mind. That says: Redemption of African is only possible through Africans who understand the depth of our fall socially politically and economically. African is now a goat in the den of hungry lions.

#

Rachel Ayisi-Mpere

on 15 Sep 2009 at 2:41 pm

hi can you pleas send me a little bit detail information on how to oder for these cds. thanks

Nkrumah is long dead but his vision lives on!

#

Faustina Ayamga

on 23 Sep 2009 at 6:06 pm

this is a man we should uphold forever……….
can i please get copies of Dr. Nkrumah's speeches/CD's

#

sanda bello

on 23 Sep 2009 at 7:46 pm

kwame nkrumah is the one that had vision and love for africa,so we need to light up his touch again.pls i need his un speech.thankz

He was indeed a great leader who had vision.

#

sandys akwasi gyabeng

on 17 Oct 2009 at 4:29 am

when shall we get somebody like kwame nkruma

#

Linus Dominc

on 21 Oct 2009 at 9:32 am

the depth of wisdom and knowledge of this man is enormous.he is way beyond his generation.he thought greatly of atomic energy production as at that time,just to mention a few.what a genuis.plz send me a copy of his book -africa must unite.

#

Lena

on 01 Nov 2009 at 12:19 pm

…and still the USA wants us to believe that they are supporting democracy in the developing countries and that the World Bank is assisting Africa to develop. For how long the west will keep manipulating realties.
Look at this link http://en.wikipedia.org/wiki/CIA_sponsored_regime_change
Lena

#

Eddy-Annan

on 10 Nov 2009 at 11:26 am

Thanks to you all,Its rather unfortunate our leaders always and constantly fall in the trapes of the west.My fellow readers if we can believe that Africa could only be develope by African,then identifying our core problems with a permanent and common solution for the Afriacan continent.then in two decades we can say yes we did.

#

Kwame

on 17 Mar 2010 at 2:02 pm

What can l say than to add my voice to the call for radical reforms in the African set up. The Youth has stood so long for the total liberation of the African Continent, the oppression is at its peak and we are powerless as a toothless bull dog. in my country Ghana, we are waking up to the realities of subversive measures of the oppressors and l'm proposing a Radical African Youth Front to face the oppressor and fight for our right to make our own decisions and take our destiny into our own hands.

I am sick and tried of Africa with the richers resources in Africa but always begging for arms, am sick of Nigeria having so much oil but people in the Delta State so poor, am sick of my country Ghana, Angola, Guinea, the Congo and many other country in Africa but the west treating us as nonentities, how long can we wait for a better Africa.

Just yesterday l have to cry because l saw some whites giving out shoes to our people and we were fighting for it. The action must start now or this curse will be handled down for generations.

#

Babucarr

on 14 May 2010 at 3:53 am

It is no doubt Dr Nkrumah is indeed a pan-africanist

Well am boniface mungo from Tanzania i would like to get the speech of kwame Nkrumah about Neocolonialism

#

awiah

on 23 Jun 2010 at 1:57 am

Please, send me his audio speeches because he was like the messiah of africa

#

GROTTO AFRIQUE

on 10 Aug 2010 at 11:08 am

Please can i get Kwame Nkruma's speeches from the ghananian embassy in Nigeria?

#

Awuah Gyamfi

on 20 Sep 2010 at 3:21 am

Nkrumah was a true heroe and fighter.

I need the copy of the speech

#

Jacob Akisbadek Akinla

on 05 May 2011 at 9:52 am

If words alone could do it, I think we would not need the courage and selflessness of Nkrumah. He has done his part. It is left with us to do our part; and that is necessary because posterity will need to know what we each did to solve this problem of ours. If we individually contribute our quota, together, we shall get there. If the work done of a bundle of broom is marvelous, it is because each of the broom sticks worked tirelessly together. GOD SAVE AFRICA!

#

boby

on 26 Nov 2011 at 3:23 pm

Please send me a copy of this audio speeches of kwame nkrumah because for me he is the messiah of africa……pls let me know the price as soon as possible

#

Francis K. Akoto

on 25 Jul 2012 at 10:09 am

Could you kindly send me the Price List of Dr Kwame Nkrumah's Speeches and the mode of payment, I would be very grateful.He (Nkrumah)has been the greatest of all the African leaders

#

Royal jahlive moses

on 15 Jan 2013 at 6:43 am

He is titled Osagyefo which is translated as the Redeemer. Like Christ and Moses to Christianity, so is Nkrumah and Haile Sellasie to the people and continent of Africa. The day of Africa's doom is when we begin to dishonour our prophets, priests and Kings that redeemed us from the shackles of slavery and colonialism and offer our honour to alliens who have the similitude of murderers, rapist, thieves, robbers and exploits. Be wise fellow African Youth, let's safeguard the heritage and soverei nty of our people and continent… Africa for the Africans, those at home and those abroad . Long Live Nkrumah. Follow our facebook page, ( African Youth Improvements Foundation)for more inspiration from Great African Heroes and Heroines.

#

Owusu Debrah

on 21 Jul 2013 at 4:52 am

Kwame Nkrumah was a prophet but unfortunately, was not recognized in his own country.
How can i get the entire speech of Kwame Nkrumah at UN on CD, the Ghana independence and the opening speech at the O.A.U.
How much will it cost, and how do i pay.

I am a Ghanaian and resident in Mim in the Brong Ahafo Region.

Kindest Regards.

Hello there! I know this is kinda off topic but I was wondering
which blog platform are you using for this website? I'm getting sick and tired of WordPress because I've had issues with hackers and I'm
looking at options for another platform. I would be fantastic if you could point me in the direction of a
good platform.

Look at my site :: Valley Movers

#

Ken Rogers

on 25 Sep 2015 at 4:45 pm

Its surprising that his detractors have not shown remorse for their actions, they are still rooted in the philosophies of the west. I would be grateful if I can have a copy of his UN speech and. all other speeches of his in your archieves. Thank you

Excellent post, you have pointed out some fantastic points , I also think this s a quite excellent internet site.

Nice post. I learn something new and challenging on websites I stumbleupon everyday. It will always be helpful to read through content from other authors and practice something from other websites. |

#

emmanuel dlamini

on 14 Oct 2015 at 4:00 am

Every time I read about the w3onderful works of Dr. Nkrumah I feel a renewed zeal to find meaning to the Afrika struggle for self sufficiency of the individual as a unique being, and the individual as a part of a whole.
Please send more information to my personal email address.