Nov 26 2008
Our weekly edition is a nationally syndicated one-hour digest of the best of our daily coverage.
Audio Stream |
Podcast | Mp3 Download
This week on Uprising
* Can Obama Save the U.S. Economy?
* Chavez Supporters Prevail in Venezuelan Elections
* Black Agenda Report on the Decline of American Dominance
* Will Michelle Obama Challenge Expectations of a First Lady?
* * * * * * * * * * * * * * * * * * * * * * * * * * * * * * *
Can Obama Save the U.S. Economy?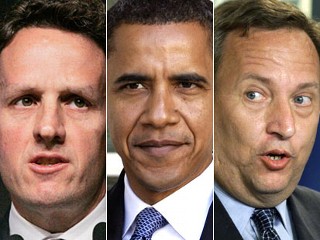 President Elect Barack Obama unveiled his economic team earlier in the week at his second press conference since winning the election. The named economists were greeted with strong enthusiasm from Wall Street and the Republican Party. Obama also promised to unveil an economic stimulus package as soon as he takes office next year that is three times larger than what was proposed earlier, focusing on serious job creation through roadworks and other infrastructure development. Obama backed off from including in his plans, the repeal of tax cuts to the wealthy – a point he campaigned on before the election. The news of Citigroup's impending failure strongly framed the press conference and has brought renewed characterizations that are now all-too-familiar: that this bank is too big to fail, prompting yet another bailout numbering in the hundreds of billions of dollars.
GUEST: Max Fraad Wolff, instructor at the Graduate Program in International Affairs at the New School University, is a frequent contributor to Huffington Post, Asia Times and The Indypendent
Chavez Supporters Prevail in Venezuelan Elections
Venezuelans went to the polls on Sunday in important regional elections that will undoubtedly reshape the political future of the country. With 22 of its 23 state governorships, 328 mayoral races, and 233 regional legislative seats decided by the vote, the opposition to President Hugo Chavez sought to make major political advances. The elections are a test of the newly formed Venezuelan United Socialist Party (PSUV), in the first vote since Chavez lost a referendum in 2006. Though final official results have not yet been released, the state and local elections boasted a record turnout of 65% of all eligible voters. Initial reports from the National Electoral Council showed pro-Chavez candidates leading in 17 out of the 22 gubernatorial races. The anti-Chavez opposition, departing from their 2004 protest abstention from the regional elections, focused their critiques not so much on Chavez's personality as they have done in the past, but on issues such as inflation and crime. Though they failed to make a significant dent in Chavez's political influence, opposition candidates claimed some relative victories in taking the mayoral race in Caracas and two governors seats in populous states. With declining oil prices and the dismal state of the world economy, the election results will certainly factor in what will be a decisive year for the road to "21st Century Socialism," in Venezuela.
GUEST: Miguel Tinker-Salas, Professor of Chicano and Latin American Studies at Pomona College
Black Agenda Report on the Decline of American Dominance
Glen Ford is a writer and radio commentator and the Executive Editor of The Black Agenda Report. This week's commentary is about the Decline of American Dominance
Visit www.blackagendareport.com for more information.
Will Michelle Obama Challenge Expectations of a First Lady?
michelle obamaWhile most news is focused on President Elect Barack Obama, the nation's first Black First Lady is receiving a very different kind of attention. The Financial Times sums it up thus: "Her husband is the nation's foremost politician and her main job is to help him do his. But she must always remember that she holds no elected office and wields no independent political power. She is the chief ceremonial female – literally the First Lady – in a country still unsure about the proper role of women in public and private life. If she happens to be African-American, she is a symbol of her race. Oh, and she must be able to choose precisely the right dress for every occasion." A graduate of Princeton and Harvard, Michelle Obama is quite different from her predecessors in more ways than one. But her high powered career and her own background in community organizing has not generated as much interest as where she plans to send her daughters to school, and the embrace of her role as "mom-in-chief" – aspects which fit more comfortably with standard expectations of the First Lady. Michelle Obama, the dutiful mother and wife, is the dominant narrative rather than Michelle Obama, the independent intellectual and activist. With more women in politics than ever before, much is made of American women's opportunities and the end of sexism. Yet why do we still expect the First Lady to be the nation's most prominent doormat?
GUEST: Rebecca Traister, senior writer for Salon, where she covers women in media, politics and entertainment
Sonali's Subversive Thought for the Day
"In the end, freedom is a personal and lonely battle; and one faces down fears of today so that those of tomorrow might be engaged." — Alice Walker
One Response to "Weekly Digest – 11/26/08"
I savor, cause I found exactly what I used to be taking a look for. You have ended my 4 day long hunt! God Bless you man. Have a great day. Bye