Oct 30 2009
the entire program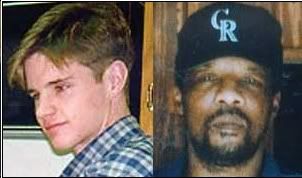 On Wednesday President Barack Obama also signed into law new federal hate crimes legislation attached to the Pentagon budget. The Matthew Shepard and James Byrd Jr. Hate Crimes Prevention Act will broaden protections to include people violently attacked on the basis of real or perceived sexual orientation, gender, gender identity and/or disability. The legislation will also strengthen existing protections for racial, religious, ethnic, color and national origin categories. Obama, upon signing the bill named for a gay college student murdered in Wyoming and a black man dragged to death from a truck in Texas more than ten years ago, said, "No one in America should be forced to look over their shoulder because of who they are or because they live with a disability." Right-wing opponents of the bill cited their opposition to the extended protections for LGBT individuals on the grounds of supposed free speech infringements. The Democratic majority in Congress, however, was able to pass it, based in part on its attachment to the Pentagon budget.
GUEST:Rev. Darlene Nipper, Deputy Executive Director with the National Gay and Lesbian Task Force
3 Responses to "Hate Crime Legislation Significantly Expands Protections"
#

phil

on 30 Oct 2009 at 12:10 pm

In Knoxville,Tennessee, Channon christian was beaten,tortured and raped in every way for 4 days and nights by a black gang. this was ruled NOT to be a hate crime.

#

Toosense

on 30 Oct 2009 at 5:27 pm

This is the problem with ad hoc conservative BS…. You take legitimate positions, like your take on the welfare system which I somewhat agree with, and veer off into these types of ridiculous arguments. Your premise has more holes than a screen door. For one, it is worse to murder someone because of their race than to murder someone for adultery… one is perpetuated on the basis of what for some is the "heat of moment" or temporarily losing your scruples… the other, on the basis of sheer ignorance and hatred for people who don't even know. The former in most jurisdictions would not warrant a "murder 1" conviction and instead a "murder 2" or manslaughter charge, the latter, if premised on the victims gender or sexual orientation (requiring that premeditated thought) would always be the more severe murder 1 charge. We see fit for a distinction between murdering the McDonald's guy and murdering a judge, and it makes perfect sense to distinguish a crime like murder based on the motive. (which we already do) The bill doesn't value any one life over another, it doesn't provide a distinction between murdering a homosexual or murdering a woman or a man. If either was the motive, you're in trouble. Religious wing nuts such as your self (educated guess), would warrant far more credibility if you spent more time trying to emulate the man, (JC) rather than interpreting religious doctrine in a manner that is consistently self serving and justifies hatred, intolerance, and the like. What would Jesus do? It's just four words and it seems like such an easy thing to apply. Let's try it… The government provides a bill stating that if you murder someone based on their gender or sexual orientation, an extra penalty shall apply. Jesus would a) Say that no one should be murdered and praise the bill since it offers further protection for people that need it (like his views on the poor); b) Tote picket signs in front of government buildings stating that all gays should die and will burn hell; or c) write an absurd article attempting (horribly) to provide a correlation between the strength of our country and adding extra penalties for gender and sexual orientation crimes. Common sense tells me "a".
Unfortunately, because idiots like yourself consistently ignore the common sense answer and choose a "b" or "c" type of answer, people like me who were raised in a religious home, can no longer associate themselves with religion, which every day seem less about peace, love, and the like… and more about hate, intolerance, money, and more money. Here's another four word phrase you should keep in your arsenal… Speak with your actions. In other words, try acting like Jesus would, instead of talking all types of nonsense and then throwing in references to religion.

My spouse and i got quite delighted Raymond managed to finish off his preliminary research by way of the precious recommendations he had from your very own web pages. It's not at all simplistic just to continually be freely giving concepts which often most people have been making money from. We remember we need the blog owner to be grateful to because of that. The explanations you've made, the straightforward site menu, the friendships your site help create – it's most exceptional, and it is aiding our son in addition to our family consider that the theme is exciting, and that is tremendously serious. Thanks for the whole thing!