Oct 30 2009
Our weekly edition is a nationally syndicated one-hour digest of the best of our daily coverage.
Audio Stream |
Podcast | Mp3 Download
This week on Uprising:
* Progressives Up the Ante, Risk Arrest on Healthcare Reform
* Black Agenda Report about the Democratic Party
* Vijay Prashad: Afghanistan Needs Regional Solution
* Empire Notes on Delusions of Afghan Democracy
* Obama Signs New Hate Crimes Legislation
* * * * * * * * * * * * * * * * * * * * * * * * * * * * * * *
Progressives Up the Ante, Risk Arrest on Healthcare Reform
After many months of wrangling over what healthcare reform should look like, House Democratic leaders introduced a bill on Thursday that did include a watered down version of a publicly funded option to compete with private health insurance companies, even as a new NBC/Wall Street Journal poll has shown increasing public support for such a program. The bill expands coverage to many more Americans, and the House bill would impose strict new rules on insurance companies, including a ban on denying coverage based on preexisting conditions. But, progressives are deeply disappointed with the rules to set rates for the public option, and also with the dropping of an amendment that would have allowed states to experiment with a single payer system. Additionally the bill requires all Americans to have health insurance, considered a gift to the private health insurance industry. As Legislators ignore public opinion on healthcare, progressives have taken to the streets in increasing numbers to express their protests.
GUEST: Laura Flanagan with Mobilization for Health Care for All, has been organizing civil disobedience actions on health care in the LA area
Find out more at www.mobilizeforhealthcare.org.
Black Agenda Report about the Democratic Party
Glen Ford is a writer and radio commentator and the Executive Editor of The Black Agenda Report. Bruce Dixon is sitting in for him today. This week's commentary is about the Democratic Party.
Visit www.blackagendareport.com for more information.
Afghanistan Needs Regional Solution
Taliban groups in Pakistan and Afghanistan this past week staged simultaneous attacks in both countries killing at least 100 people. A women's clothing market was targeted in Peshawar, while across the border, UN officials were attacked in their hotels in Kabul. The Peshawar attack is thought to have been in direct response to a recent deployment of 30,000 Pakistani troops to South Waziristan where the group is based. The Kabul attack on the other hand, was claimed by the Afghan Taliban to be in response to the UN's recent role in setting up presidential run-off elections scheduled for November 7th. The Pakistan attacks came just hours after US Secretary of State Hilary Clinton arrived in the nation. Clinton stated in strong terms that the US was assessing Pakistan's success in fighting the so-called "war on terror." With the United States reviewing its strategy on the Afghanistan war, and expanding its war in Pakistan, a crucial question is whether US actions are curbing or creating the problems in both countries. This week's New York Times revelation of the suspected drug-lord brother of Afghan President Karzai being on the CIA payroll to run paramilitaries, further complicates the situation.
GUEST: Vijay Prashad, George and Martha Kellner Chair in South Asian History and Professor of International Studies at Trinity College, author of nearly a dozen books, including The Darker Nations: A People's History of the Third World
Empire Notes on Delusions of Afghan Democracy
Empire Notes are weekly commentaries filed by Rahul Mahajan, author of Full Spectrum Dominance and The New Crusade. Today's commentary is on Delusions on Afghan Democracy.
GUEST: Rahul Mahajan, author of Full Spectrum Dominance and The New Crusade.
Visit www.empirenotes.org for more information.
Obama Signs New Hate Crimes Legislation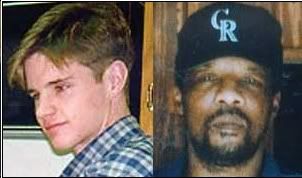 On Wednesday President Barack Obama signed into law new federal hate crimes legislation attached to the military budget authorization. The Matthew Shepard and James Byrd Jr. Hate Crimes Prevention Act will broaden protections to include people violently attacked on the basis of real or perceived sexual orientation, gender, gender identity and/or disability. The legislation will also strengthen existing protections for racial, religious, ethnic, color and national origin categories. Obama, upon signing the bill named for a gay college student murdered in Wyoming and a black man dragged to death from a truck in Texas more than ten years ago, said, "No one in America should be forced to look over their shoulder because of who they are or because they live with a disability." Right-wing opponents of the bill cited their opposition to the extended protections for LGBT individuals on the grounds of supposed free speech infringements. The Democratic majority in Congress, however, was able to pass it, based in part on its attachment to the Pentagon budget.
GUEST:Rev. Darlene Nipper, Deputy Executive Director with the National Gay and Lesbian Task Force
Sonali's Subversive Thought for the Day
"Democracy arose from men's thinking that if they are equal in any respect, they are equal absolutely." — Aristotle
Comments Off on Weekly Digest – 10/30/09