Jul 29 2011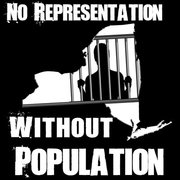 At a time when California prisons and redistricting are much debated issues, a new state bill seeks to address a problem at the intersection of the two: prison-based gerrymandering. Described as "representation without population," prison-based gerrymandering occurs when prisoners are counted, for census purposes, in the district their prison is located. Opponents say this artificially inflates the population of districts where prisons are built, and dilutes the numbers in prisoners' hometowns. The Prison Policy Initiative, or PPI, estimates the 2010 Census counted 2 million Americans in the "wrong place" because of the practice, not just in California, but all over the nation. A stark example of the consequences can be found in Amorosa County, Iowa. The PPI reports one Amorosa district has an official population of about 1,374 residents. The prison within its boundaries houses about 1,321 adults who cannot vote, but who provide 96% of the district's population. According to the PPI the remaining residents have 25 times more voting power than residents in neighboring districts. In 2008, the US Department of Justice pegged the California prison population at 173,000 prisoners, many of them residing in facilities hundreds of miles from their last known address. The NAACP Legal Defense and Education Fund argues the practice, "[s]everely weakens the voting strength of entire communities of color" in California. It reports African Americans and Latinos make-up 43.3% of the state's population, and a disproportionate 70% of state prisoners. California Assemblyman Mike Davis is the author of Assembly Bill 420, which would require the Department of Corrections and Rehabilitation to submit last known addresses of all inmates to the Redistricting Commission. AB420 has made it through the Assembly and will come before the state Senate when it reconvenes in August.
GUEST: Assemblyman Mike Davis from the 48th District here in Los Angeles, He is Vice Chair of the Legislative Black Caucus and also a member of the Assembly Rules Committee in addition to others and he served as Assistant Majority Whip.
Assemblyman Mike Davis urges listeners to call their State Senators in California to support AB 420. Find out who your state Senator is, and their contact information here: http://www.leginfo.ca.gov/yourleg.html
One Response to "California Assembly Mike Davis Calls for End to 'Prison Gerrymandering'"
#

casute din lemn

on 08 Mar 2012 at 11:01 pm

It's in point of fact a great and useful piece of info. I'm glad that you just shared this useful information with us. Please keep us informed like this. Thank you for sharing.