Dec 15 2005
I was at the supermarket yesterday, and as is the nauseating custom at this time of the year, there was Christmas music playing over the loud speakers. While I was able to tune out "Rockin' Around the Christmas Tree," I soon found myself nearly retching when Band Aid's "Do They Know it's Christmas?" began playing.
I remember Bob Geldof's paternalistic fervor 21 years ago, joined by the likes of George Michael, Boy George, Simon Le Bon and other super stars, calling attention to the famines of Ethiopia. U2's Bono patted himself on the back for being part of the international superhit, telling the BBC: "There was a sense after a while that we were there for other people – people we may never meet or know, but we were here for them."
I couldn't articulate back then why the song disturbed me. But now, I cannot understand how anyone can stand to listen to it.
Just to be clear, let me paste the lyrics:
It's Christmastime
There's no need to be afraid
At Christmastime, we let in light and we banish shade
And in our world of plenty we can spread a smile of joy
Throw your arms around the world at Christmastime
But say a prayer
Pray for the other ones
At Christmastime it's hard, but when you're having fun
There's a world outside your window
And it's a world of dread and fear
Where the only water flowing is the bitter sting of tears
And the Christmas bells that ring there are the clanging chimes of doom
Well tonight thank God it's them instead of you
And there won't be snow in Africa this Christmastime
The greatest gift they'll get this year is life
(Oooh) Where nothing ever grows
No rain nor rivers flow
Do they know it's Christmastime at all?
(Here's to you) raise a glass for everyone
(Here's to them) underneath that burning sun
Do they know it's Christmastime at all?
Feed the world
Let them know it's Christmastime again
(repeat ad nauseum)
Apparently nothing ever flows in poor Africa, no rain, no rivers, no snow.
Even if you ignore the devastating impacts of IMF structural adjustment, corporate clear cut logging, and other environmental damage spear headed by the governments of the Band-Aid singers, there are at least 26 rivers in Africa, many rain forests, and yes, it even snows (South Africa, for example)!
Do Africans know it's Christmas time? Of course Christian Africans know. But Muslims and those who practice traditional African spiritual faiths couldn't care less.
Geldof isn't ignorant however. He told the BBC: "It is those critical issues of trade and debt that are enabling the situation in Ethiopia and the west of Africa to continue." But no blame is ever laid on international trade rules in the lyrics of the simplistic song.
The paternalistic, racist ignorance of the Band-Aid crew may have been acceptable in 1984 to the millions who bought the single to chase away their guilt. After all, 'thank God it's them instead of you.'
But more than 2 decades later I would like to think we have learned much more about the world, about poverty, racism, economic injustice, etc, even if we haven't eradicated them.
Still it didn't stop a new generation of ignorant pop star from repeating the insulting, racist project – this time as "Band-Aid 20". As you can see the cover of the CD visually emphasizes how black Africans are perceived: surrounded by cheerful, warm and bubbly reindeer, is the back of a miserably thin, naked, stick-like figure of an African child.
Designed to inspire pity, the only thing that comes to mind in response is the title of political band Chumbawumba's answer to Band-Aid: "Pictures of Starving Children Sell Records."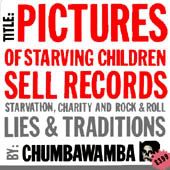 The lyrics to this far more politically astute band goes much further:
Feed the world
Starve the rich
16 Responses to "Do They Know How Racist They Sound?"
I think it's possible to forgive Geldof and his compatriots for tying to have an immediete effect on African suffering instead of addressing the problem exclusively through a policy/beaucratic solution. It's true that Africa's problems won't be turned around without considerable changes to the West's economic policies toward it, (changes which will take years to take effect), but to be repulsed by Geldog's efforts–however clumsy those efforts may have been–is pretty cold-hearted. Would you rather have had Geldof, instead of providing food to starving Africans, organize a letter-writing campaign to the IMF and its supporter nations? Having either alternative take place would be ideal, but failing that, is Geldof really worthy of condemnation?

#

JustJack

on 03 Feb 2006 at 8:47 am

As an ex-Christian, I find that most things Christmas are fraught with problems. As for Geldof, et al., what else would one expect from a bunch of ignorant wealthy folks, they always have good intentions but fail to finish-on-goal (for 'Merikaans, the analogy would be "they fumble right at the end zone"). Isn't it interesting that despite his knowledge of the cause of the problems he didn't dare let that truth seep into the lyrics of the song? After 39 years of seeing this sort of behavior by the well-funded class, I've almost stopped noticing. Thanks for the alternative given by Chumbawumba.

#

Mimi Kennedy

on 25 Feb 2006 at 3:23 pm

I always thought "Thank god it's them instead of you" was an execrable sentiment and wondered, was it meant ironically? Even so, a horrible bad note, worthy of the racist and murderous "Fight them over there so we don't have to over here." Bridging cultures always involves awkward, embarrassing mis-steps,but thanks, Sonali, for calling out the racism of this one – because it's still being played.

[…] (Just 25 days until our Muzak at work is switched over to the All Xmas music, all the time station. Xmas 2000 was my first year at my current job and the Xmas music alone was enough to make me want to quit. Last year they stopped playing the Eagles version of Please Come Home for Christmas and if New Boss hadn't brought in a radio to give us some relief…well, let's not go there.  Ugh. And even New Boss's radio was tuned to the All Xmas all the time station, but at least it had a few different songs for variety. If you call variety two versions of some horrible song called "Christmas in Kilarney" and the racist tripe that is "Do They Know it's Christmas?" several times a day). […]

I disagree. I don't think this song is racist. I do agree with you that Bono is a self-promoting jackass who has yet to lift a single finger to help (actually help) any other human being on this planet. But I really think this song is just trying to call the Western world out on their ignorance and the blind eye we all turn. "Tonight, thank God it's them instead of you" is meant ironically, because it's just exactly how everyone not living in Africa thinks, whether we want to admit it or not. This song is just admitting it on the behalf of the cowards who deny it. The whole song is ironic; it speaks the truth: we celebrate our commercialized corporate-controlled shell of holiday, while Africans die. Period. I wish there were more songs that told the truth like this one does and begged people to realize "there's a world outside your window" and that world is being raped.

Thanks for posting the lyrics (searching for them is how I got here).

Sonali

THANK YOU! We have been amazed at the ignorance and racism of these lyrics, which are clearly not ironic. It is sickening!

#

Schalk pienaar

on 05 Mar 2008 at 5:41 am

Bono goes to Africa and always have unlike sinical negative envious pricks.

#

Stu

on 01 Jan 2011 at 7:09 am

"But more than 2 decades later I would like to think we have learned much more about the world, about poverty, racism, economic injustice, etc, even if we haven't eradicated them"

I googled my way here and have to say… here we have an article about people who raised millions of pounds to help others. Of course, it doesn't actually mention that- it just talks about condescension. And the funny thing is, the article itself is spectacularly condescending. If we know 'much more' than those poor, ignorant, racist people way back in the distant past of the 80s.. how have we shown it? With all your superior knowledge, have you raised millions to help anyone recently, Sonali?

#

admin

on 07 Jan 2013 at 12:58 pm

Dear Stu,

Sonali Kolhatkar is the Director of the Afghan Women's Mission, a non-profit organization, and in that capacity she has actually helped raise millions (over 12 years) for women and children in Afghanistan. Except, she has done it by working in solidarity with local Afghan women, allowing them to take the lead in setting the agenda, telling their own stories, etc.

Admin just pwnt Stu. Good Admin does good job.

#

Yehuda

on 03 Dec 2013 at 1:53 pm

I also find my way to this blog by googling. As a jew being forced to listen to musack in the malls every December, this song always bothered me since it first came out. I would always ask myself when your in a country that can't organize enough to feed and educate the poor, why would they care if it was x-mas time or not?

Part of going to Jewish School we learn about Tzdaka (charity, the art of giving to help others wether rich, poor, black or white, American, African or Chinese) everyone pitches in to help the community. Charity does not only mean giving money to a poor person, its also giving your time to teach someone how to be self sustainable. After all 20+ years of donating money from this album there are still children starving in Africa.

Unless Western Civilization brings in engineers to build self sustaining farms and schools the poor will never grow in Africa(or anywhere else around the world). If Jews in Isreal can start farms in a desert by de-salinization ocean water why won't the African Governments pitch in and send some students to learn from the Isreali's.

I wish i could change the words to:

Help all Jews Educate and Donate to the wooooorld!
Don't the Christian Musicians know its Chanukah Time again?
Help a Jooo oooo
Don't you know its Chanuka time again?

[…] World," singing condescending screeds about how sad it is that children in Africa "don't know it's Christmas"–while he himself is blissfully unaware of how he propagates, and exacerbates, the very […]

#

Jonathan hu

on 07 Apr 2015 at 9:38 am

I love this song i love sitting at home and listen to it blare all throughout my home it makes me feel so good and christian i love how tbose little hopeless africans can get help. This somgs tickles my pickle

Your weblog is among the far better blogs I've came across in months. Thank you for your posts and all the finest along with your function and blog. Looking forward to reading new entries!

I love what you guys are up too. Such clever work and exposure! Keep up the extremely very good works guys I've incorporated you guys to my own blogroll.

Lovely website! I am loving it!! Will be back later to read some more. I am bookmarking your feeds also.